iOS
|
Encoding solution for iPad, iPhone, and iPod.
Zencoder offers a complete encoding solution for iPad, iPhone, and other iOS devices for live and on-demand video. Our custom HTTP Live Streaming packager is highly optimized, and produces up to 12% smaller files than other tools. We offer the only full-featured HLS system in the cloud featuring 128-bit AES encryption, image support on audio-only tracks, HE-AAC audio encoding, and perfect keyframe placement.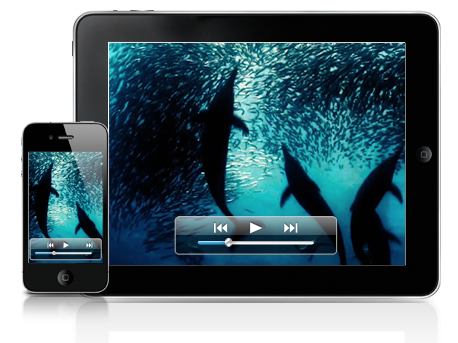 Zencoder's iOS solution features
Mobile presets for all iOS devices
Perfect keyframe placement
Multiple output bitrates from a single job
Floating-point segment durations
HE-AAC audio encoding
128-bit AES encryption support
Closed caption support
Transmux-only jobs
Deliver the best possible viewing experience on all iOS devices
HTTP Live Streaming is an adaptive bitrate protocol that allows players to dynamically adjust video quality based on available bandwidth speeds. With adaptive bitrate technology like HTTP Live Streaming, players automatically adjust video quality based on available bandwidth, giving your users the best possible viewing experience.
Transcode live streaming video into HLS
The Zencoder Live Cloud Transcoding API delivers adaptive bitrate streaming from a single RTMP origin stream. Create up to 20 output streams in the cloud to deliver an optimal experience to the audiences across web and mobile devices.
Get your video application accepted to the App Store
Apple requires that applications in the App Store use HTTP Live Streaming when publishing video that is longer than 10 minutes or larger than 5 MB. Many app publishers have had their applications removed from the App Store for using single-bitrate MP4 video instead of HLS.
Save up to 12% on your storage and CDN bills with optimized MPEG TS
Zencoder uses optimized MPEG TS segmenting for HTTP Live Streaming when preparing video files for iOS delivery. The result is 10-12% smaller file sizes than other cloud and traditional encodinging providers, meaning instant savings on streaming and storage costs.
Protect your content with AES Encryption
Zencoder offers 128-bit AES Encryption to ensure your content is secure. We can even rotate encryption keys for an added layer of security.
Make your video accessible with Closed Captions
Zencoder supports translation of closed captioning formats for HLS video and CEA-608 caption tracks embedded in MP4 files.
Transmux existing H.264 files for Apple iOS devices
Zencoder can package existing H.264 files into MPEG TS segments for iOS delivery, without having to re-encode the video files.